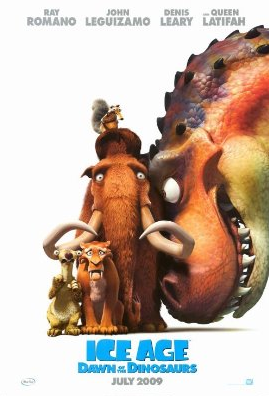 "Ice Age: Dawn of the Dinosaurs" (2009, Dir. Carlos Saldanha y Mike Thurmeier) Es la tercera parte de la saga iniciada con "Ice Age" (2002, Dir. Chris Wedge y Carlos Saldanha), seguida de "Ice Age: The Meltdown" (2006, Dir. Carlos Saldanha). En esta poco original trama, vemos las aventuras de Manny (Ray Romano) y Ellie (Queen Latifah) que se encuentran a la espera de su hija, en compañía de Diego (Denis Leary), Sid (John Leguizamo), Crash (Seann William Scott) y Eddie (Josh Peck).
La historia es una copia mal lograda de dos famosas historias: "Viaje al centro de la tierra" (1871 de Jules Gabriel Verne) y "Moby Dick" (1851 de Herman Melville), Sid cae en un agujero y encuentra tres huevos de T-rex que toma como hijos, pero sin saber que esto hara que una furiosa mamá enojada lo persiga para recuperar a sus crías. Esto hará que todos sus amigos bajen a un mundo subterráneo plagado de dinosaurios, en el que conocen a un personaje llamado Buck (Simon Pegg) el cual es un remedo del famoso capitan Ahab, que en lugar de estar obsesionado por una ballena blanca, lo esta por un dinosaurio gigante, que sin asomo del refrito, tambien es blanco.
Con momentos cómicos en su mayoría provocados por la traumatizada ardilla Scrat en su busqueda de bellotas y su encuentro con una ardilla hembra llamada Scratte, que le hará ver su negra fortuna.
Aunque la animación y los efectos 3D la puden salvar, la historia es tan Sosa que me decepcionó mucho. Si quieren ver una animación en 3D y con una historia excelente pues gasten su dinero en "Up" de Pixar.