Coraline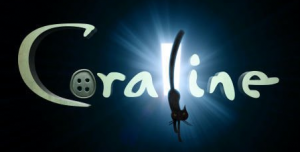 Coraline (2009, Dir. Henry Selick) es la historia de una adolescente inadaptada llamada Coraline Jones (voz de Dakota Fanning) que llegá a vivir a una extraña casa donde encuentra una puerta a un universo paralelo, en el cual, las cosas pasan como ella lo desearía, pero no todo es perfecto en este mundo…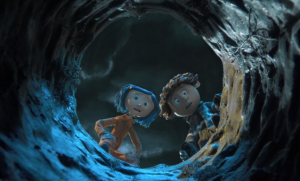 El director Henry Selick nos trae ambientes que previamente habíamos visto en dos de sus trabajos anteriores: "James and the Giant Peach" (1996) y "The Nightmare Before Christmas" (1993). De esta última retoma el personaje de un gato (voz de Keith David) que ayuda a Coraline a ver la realidad entre los mundos en los que se encuentra.
Con un trabajo de animación impresionante, Selick nos trae personajes (vecinos de Coraline) que rallan en la locura, como Mr. Bobinsky (voz de Ian McShane) que es un adiestrador de un circo de ratones, dos actrices en retiro llamadas Miss Forcible (Dawn French) y Miss Spink (voz de Jennifer Saunders), así como un adolescente llamado Wybie Lovat (voz de Robert Bailey Jr.) que finalmente ayuda a Coraline a derrotar a la bruja que crea el mundo paralelo para atrapar las almas de personas insatisfechas con su realidad.
Esta cinta esta clasificada como "A" (para todo público), provocará que más de un adulto salga de la sala por los gritos y llantos de sus hijos. Las escenas pueden ser demasiado fuertes para los pequeños cinéfilos. sin embargo es una gran película para este fin de semana.

Cine |

RSS 2.0

|
1,176 views